Melbourne Design Awards: R.M. Williams Revitalised Brand Environment
09.04.19 - Alex Ritchie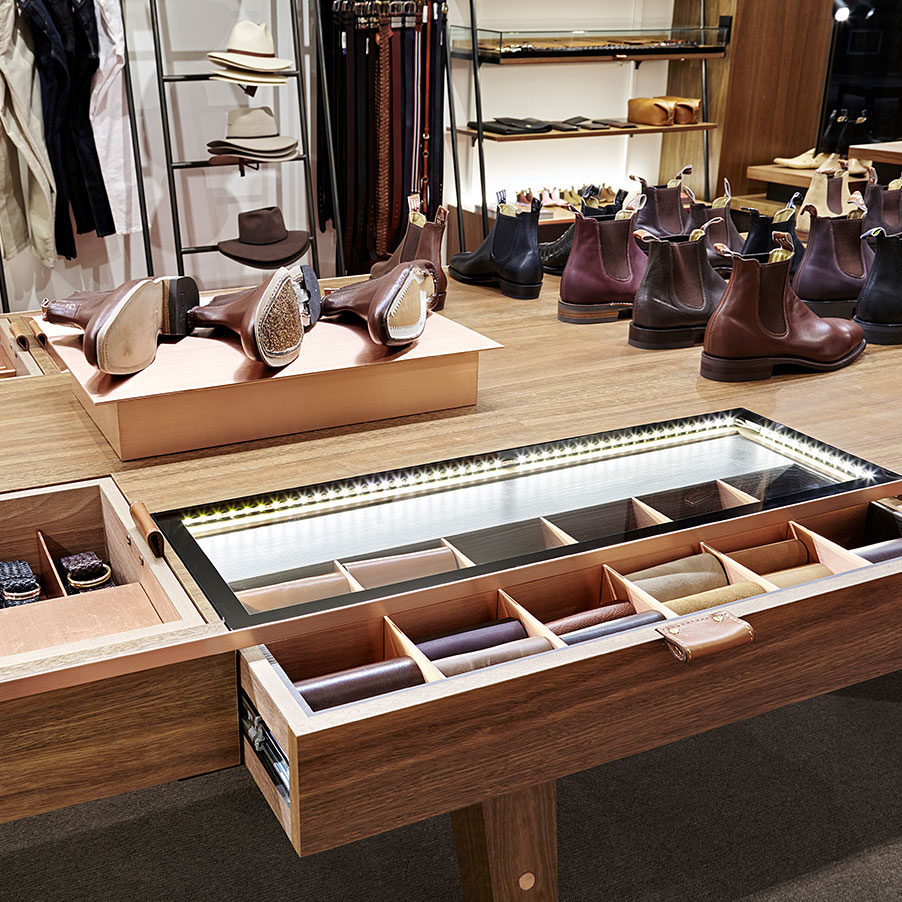 Project Overview
Born in the Australian Outback R.M. Williams create purposefully designed,beautiful and sustainable products to wear on life's adventures. Unashamedly built for the bush, R.M. Williams is the stuff of Australian legend.
e2 was invited to create a new retail environment to leverage the unique brand and its iconic product. The new retail design aims to forge a connection with a new customer both locally and internationally in a consistent, authentic way while respecting the rich heritage of the R.M. Williams Brand and its relationship with Australian outback.
Project Brief
The core objectives of the new brand environment were to enhance the perception of the R.M. Williams brand, entice new customers to the retail experience and to increase dwell time in store. An activated shopfront with high impact visual merchandising to attract and draw customers into the store was created. Expertly curated product displays encourage customers to stay longer and immerse themselves in the brand; ultimately creating a lasting emotional connection with the essence of R.M. Williams.
The goal was also to develop and evolve a more premium store experience that was scalable across different store formats. A flexible store design was key to the brief. Customer journey mapping was used to identify how customers moved throughout the store and engaged with the product. These results helped inform the design of product displays, fixtures and bespoke furniture scalable across premium shopping centres, pop up retail and urban inner city main street locations.
Project Innovation/Need
Renowned for its quality and craftsmanship in boot making, the old store design struggled to communicate this and neglected to put the boot centre stage. It was identified early on as one of main areas within the store needing innovation. The boot table was created not just as an area to display the boot but also as a place for customers to sit and be introduced to the boot buying experience, being expertly fitted whilst being inspired and educated on the timeless craftsmanship required to create each and every boot. This is the true heart of the store showcasing the cornerstone of the R.M Williams brand.
Design Challenge
Our core challenge was to attract and educate a new customer base about the brand without alienating the core customer that has been loyal to the brand through generations. A core message was evident and crucial to the design – inspired by the past, relevant to the future – this message would become the common ground between the old and new customer and needed to be articulated subtly throughout the store experience. Inspiration was drawn from iconic structures that we can all connect with. The humble Aussie sheering shed with its wooden trusses informed the store ceiling. Rusted coppery roofs, wire fencing and the red weathered earth of the Australian outback influenced the palette and materials used throughout the store. The leather from which the iconic boots are made is paid homage featured throughout the store in furniture and detailing.
Sustainability
e2 place great importance on sustainability.
We employ sustainable work practices within our office, focusing on energy efficiency reduction of resources and recycling. We establish relationships with suppliers with proven sustainability policies and procedures. Our approach to sustainability for the R.M. Williams design focused on three key areas.
Materials
• Prioritise recyclable materials –Materials including flooring with full product recycling, glass recycling, metals including recyclable steels and raw copper.
• Prioritise sustainably sourced materials – Natural timber materials were selected from FSC certified suppliers and complemented with laminates to reduce the amount of natural timber in less visible areas,
• Prioritise materials with manufacturer supported product buy back and recycling programs.
• Careful selection of finishes and detailing facilitate disassembly of materials for recycling and reuse.
Lighting
• Use of highly efficient low energy, long lifespan LED lighting to meet stringent site energy requirements.
• Cool temperature LED lighting reduces building heating load. Requirements reducing air-conditioning loads in hot summers.
• Prioritise products with manufacturer supported recycle options.
Equipment and Furniture
• Utilise energy efficient technologies for digital equipment
• Employ digital technologies to reduce printed signage material turnover
• Prioritise manufacturer supported recycle or buyback programs for furniture and equipment.